We're serious about customer support. Seriously.
At vFlyer, we try not to take things too seriously, least of all ourselves. One thing we take very seriously, though, is giving our users the best support possible. We believe providing outstanding customer support is not only essential to the success of our business but also a fundamental part of our company values. Our goal is nothing short of making every user we're in touch with feel like they just received the best customer service. Ever.
People are talking...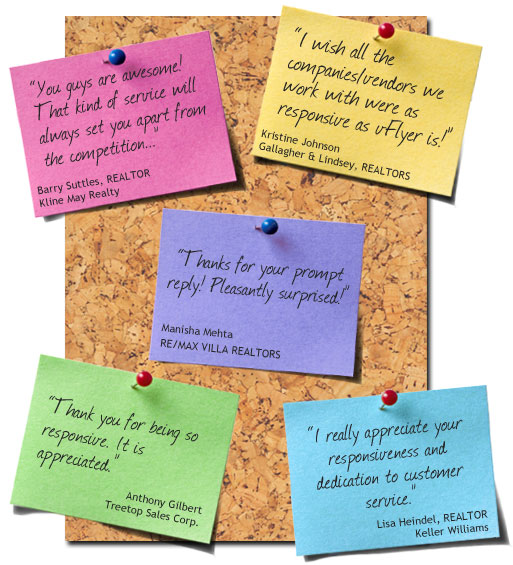 Did you know...
the Customer Success Team's response time benchmark is 95% of responses to user inquiries within 2 hours, and 85% within 1 hour. Click here to see how we've been doing!
Your success is our success.
vFlyer has a dedicated Customer Success Team to help you get the most out of our service. Why "Customer Success" and not "Customer Support"? Because we're about more than just helping out users when they request it. We want to get all vFlyer users taking full advantage of the service; this involves proactive outreach to users, open solicitation of user feedback, and the creation of great help content. We believe that when you're using vFlyer to the fullest and getting value from it, we're doing our job.
More Information:
Got a question, problem, comment, or suggestion for vFlyer? Let us know by contacting
support@vflyer.com
or
(800) 594-5930 ext. 1 - we'd love to hear from you!